We look forward to helping you
We take pride in our friendly and knowledgeable service. Our professional staff is eager to assist you in selecting the perfect beverage for your occasion.
Murphy's Package Store
Murphy's Package Store / Murphy's Fine Wines, Cigars & Spirits is best known for its tremendous selection of fine wines domestic and imported. We're conveniently located at West Falmouth Square, 410 West Falmouth Highway (Rte 28A), West Falmouth, MA. Our liquor selection is second to none with prices to fit every budget. We also carry an exciting variety of craft beer, including regional brews from Massachusetts, Maine, and Rhode Island. We take pride in our reputation for having the "coldest beer in town".
We provide discounts on purchases of wine by the case and mixed bottle cases.
Please call ahead to place your order for that special event or for immediate pick up. We can also arrange to deliver your order within certain areas. Call for details.
Please also call ahead to special order keg beer. Keg coolers and ice provided at no additional charge. Tap rentals available.
Check out our weekly in-store specials and be sure to stock up on all of your favorite beverages. New products arrive weekly!
Raffle prizes are drawn monthly – enter at no charge to win terrific promo items.
Check out our regular in-store wine tastings, on Fridays and Saturdays from 3-5 p.m., highlighting some of our latest values.
Massachusetts State Lottery and a huge selection of instant tickets in store!
Planning a party or special event? Professional Bartending Service, Inc. can meet all of your entertainment needs. One stop shopping at its finest! Pro Bartending can accommodate groups of 50 to 500, providing bartenders, liquor liability insurance, premium beverages, mixers, ice, glassware, portable bars, and miscellaneous sundries.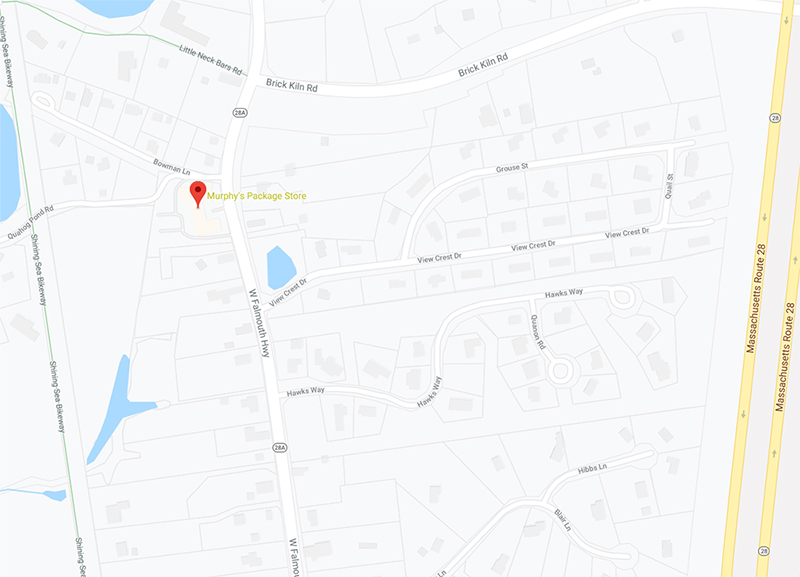 Contact Details
Professional Bartending Service, Inc.
PO Box 373
West Falmouth, MA 02574
Tel/Fax: 508-540-7724
Cell: 508-361-7960
Murphy's Package Store
West Falmouth Square
410 West Falmouth Highway (Rte 28A)
West Falmouth, MA 02574
508-540-7724
Summer Hours
In-store wine tastings on
Fridays and Saturdays from 3-5 pm
Winter Hours